What is a reducer in piping?
 A reducer is a kind of pipe fitting (accessory) which is used in process piping to change the pipe size from a big bore to a smaller bore pipe. Mostly reducer use for a change in pipe size to meet flow requirements of the process system or connect to existing small or big piping bores as per requirements. The length dimension of the reducer is almost equal to the average of the big bore and smaller bore pipe diameters.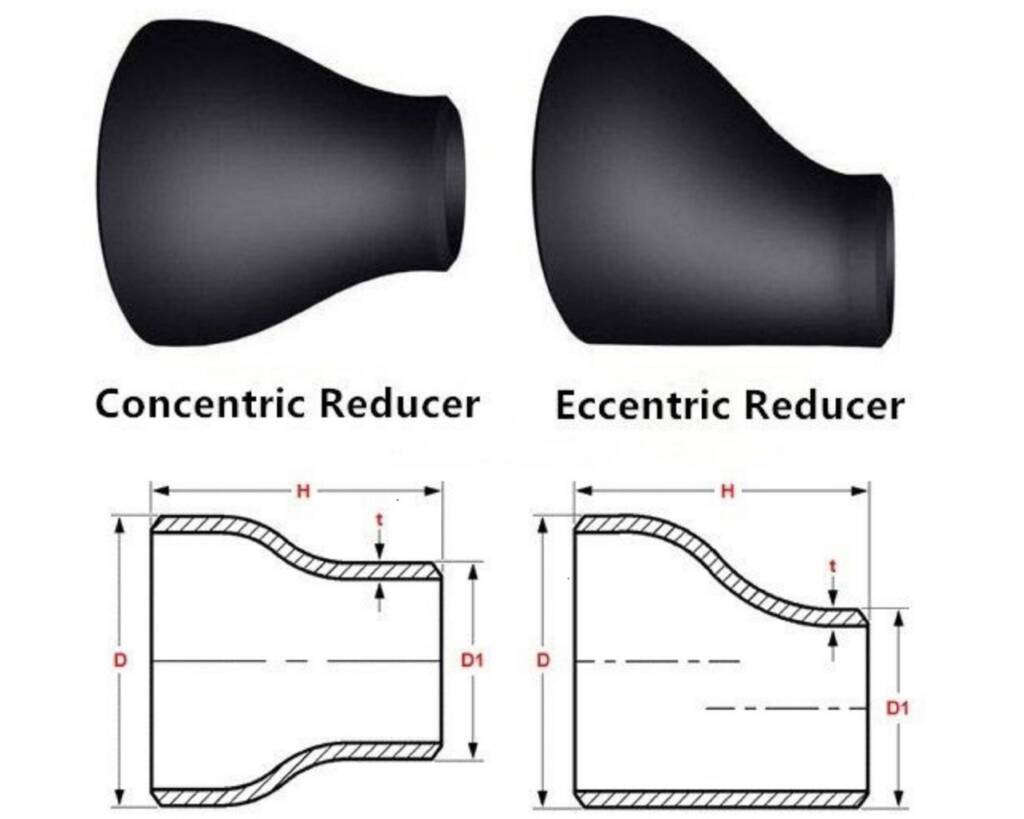 There are two types of reducer available in the industries these are as follows: concentric, and eccentric reducers. Eccentric reducers are used to maintain the services flow the same top level of pipe or bottom of pipe level in the piping system. A pipe reducer is the type of pipe fitting which helps to join two pipes with varying diameters. The pipe reducers are available in a variety of materials as well as construction variation per the requirements of end users and also available in many dimensions. This is used with piping TEE fitting, and the same is called in general language reducing TEES that is used to take reducing branch connection from header pipe mostly 90 degrees. It may be the same diameter of both pipes of reducing TEE or different, depending on the user requirement. But reducer is very economical than reducing TEE. and easy to fabricate, light in weight. Some time eccentric type reducers are fabricated at site by the fabricator. Reducer can be used as expander if required by reverse the face end of its. This is the same as Olets (weldolet, sockolet, latrolet, thredolets and etc)
How to select reducer
There are many parameters for selecting an appropriate pipe reducer, some of the important are given below. 
Choose DN (nominal diameter) and schedule 1st pipe end like (100NB X 25NB).

Choose DN (nominal diameter) and schedule for 2nd pipe end (small pipe bore)

Distance from one pipe end to another pipe end

Select the dimensions standard for reducer ASME B16.9 (Butt weld fittings, MSS SP-43, ASME B36.19, MSS SP-43)

Select the design standard for reducer.

Process of reducer fitting made (Seamless or ERW, Electric resistance welding).

Select the (MOC) materials of construction for your fitting, like mild steel (MS), stainless steel (SS), Corbon Steel, Monal, etc.

Select Class or Pressure rating or Schedule, according to your piping design.

What is type of Reducer (eccentric or con-centric) select as per your requirement?

What is type of end connection required, Plane end (PE), Bevel end, Flange end.

Types of weld required Socket weld or Butt weld.

Corrosion resistance

Durability
Note- For thumb rule and general rule for safety and to get appropriate output for the designed system the reducer Wall Thickness should not be less than 87.5% of Nominal Wall Thickness.
How many types of reducer?  What is a type of reducer?
There are many two main types of it, as mentioned below.
Types of reducers
Eccentric Reducer
Concentric Reducer
Concentric Reducers are used to connect the two pipe or tube ends to the same axis. Both connected pipe ends can be the same or may be different in bore size, as well, depending on the user requirement.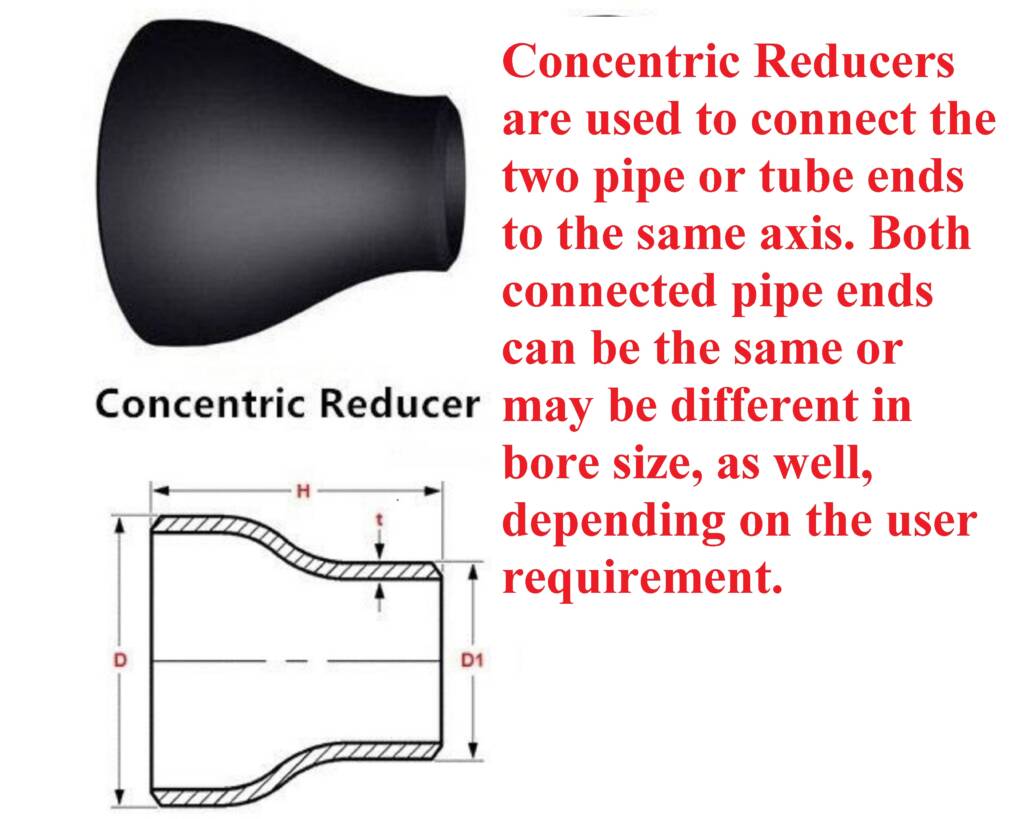 The main important is that they will provide an in-line conical transition between pressurized pipes of unmatched diameters of pipe. But the disadvantage of concentric type is that if installed concentric reducers in horizontally, there is always a possibility of creation of air or vapor pockets in the upper part of itself. The pipes cannot recognize what the outside configuration of the pipe reducer looks like. The pipe flow is affected by the inside diameter conical transition configuration which can be axially moved and externally reconfigured to provide for more economical reducer fittings. Thus, concentric types fitting connect pipes of unequal size as well as eccentric but have a common centerline. In other words, the Concentric reducer, reduction of the pipe size is achieved by decreasing the diameter of the fitting at a constant rate over a specified length, maintaining symmetry around the fitting. It is a type of pipe fitting to connect the different pipes of different diameters that join pipes in the same axis. Concentric reducers are designed with the small and large diameters on opposite ends and joined by a cone shaped transition section. T are available in both seamless and welded construction. Concentric reducers reduce the pipe in the center. It should be in discharge or it's vertically used only to get optimum advantages.
How to take measurements of concentric reducers?
There are some important parameters to take measurement for fabrication or take record for future fabrication. Get the measurements of outer diameter (OD) and inner diameter (ID) , height (H), and the total dimension (T1, T2).
Advantages of concentric reducers and Uses of concentric reducers:
Some uses of concentric reducers are as follows:
Concentric reducers will transition gracefully between the piping and the pump.

The concentric reducers help in transporting slurries or abrasive liquids.

They are useful in services where cavitation is present.

When transporting between flanges or pipes of different ratings and wear protection is necessary, concentric reducers are ideal.

Concentric reducers are used in discharge of the pump.
Eccentric Reducer
An eccentric pipe reducer fitting is manufactured with the smaller outlet off center to the larger end, which allows it to align with only one side of the inlet.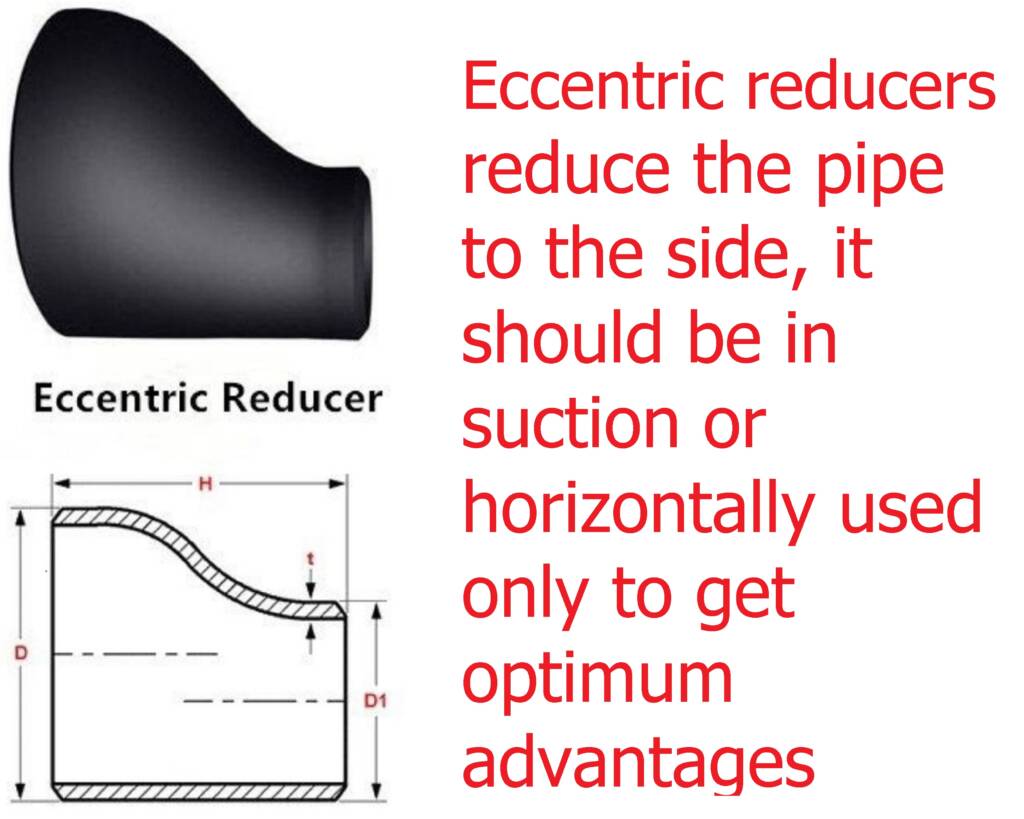 The reducer must be installed straight side up so that it can prevent trapping air at the pump suction. The eccentric pipe reducers allow simple connection of different sized pipes. Eccentric reducers reduce the pipe to the side, it should be in suction or horizontally used only to get optimum advantages. Eccentric reducer, reduction of the pipe size is achieved by decreasing the diameter of the fitting at a constant rate over a specified length, maintaining one side of the fitting horizontally.
Advantages of eccentric reducers, and Uses of eccentric reducers:
Keeping big pipes and small pipes together.

Reducing noise and vibration at the same time.

Requires less installation space.

Absorbs pipe wall and fluid borne noise.

Less turbulence or material entrapment.

Eccentric reducers are used with flat side up in pump suction to avoid cavitation.
Why reducer is used in pipeline?
The main use of reducer in pipe lines is that they control the flow and pressure of the system to achieve designed operation, and connect the two different diameters of pipes to each other for achieved desired flow for the system. Connect big bore pipes and small bore pipes together.
How do you use a pipe reducer?
For use pipe reducer to connect two different pipe lines with butt weld, socket weld or flanged joint to each other.
What is increaser and reducer?
There are two types of reducer used to connect the same diameter or different pipes that is Increaser and Reducer. The increaser is used the same way as reducer with pipe line but during the connection time, the increaser end face is reversed as compared to reducer. These use for increasing the pipe diameter size in upstream of the pipe line system, where as in case of reducer, the same things will be opposite. All everything is the same between them.
The stub in connection is function as outlets like Weldolet Fitting.
Follow the above mentioned link for read more articles.