What is Deluge valve?
Deluge valve is the important part of the fire protection deluge systems and this is a type of release, hydraulically operated diaphragm valve or hydraulically actuated globe valve, also known as the heart or main part of the system using as safety valve. Very less change to stuck or failed during the fire fighting because not any complicated parts or mechanisms are used in this valve.
This type of valve is manufactured and assembled according to UL 260 and most cases are used with UL listed certification and FM-approved. Nowadays this is available with local manual and remote control resetting features so it is different from on-off valves, FM-approved. Basically deluge valve can be activated by hydraulic, electric, pneumatic, or manual.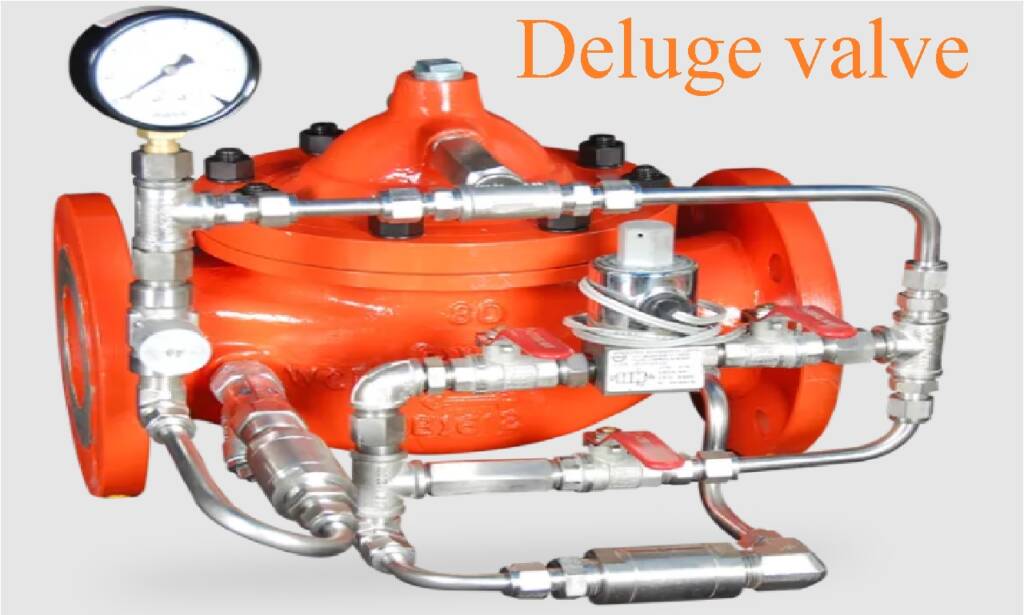 As the process services are available at your plant, the system piping remains empty and dry but when activated, the deluge system floods the area through pressurized water or other fire extinguishing material. The measure advantages of Deluge valves are to deliver quickly and bulk amounts of water over covered areas by sprinkler and quickly extinguish fire.
But it is not an easy task to distinguish between Deluge valve and on off valve.
Hydraulically Controlled Deluge Valve

Electro – Hydraulically Controlled Deluge Valve

Pneumatically Controlled Deluge Valve:

Electro-Pneumatically controlled Deluge Valve

Test and Alarm Trim with Sprinkler Alarm
Deluge valve models
There are many types of models available nowadays but this is not fixed for all manufacturers. Some of the manufacturers are designated as model number names and some are called series numbers. like the deluge valve designated as model A, model H2, model H3, model DDX, model F1 etc and other given names as serial numbers that totally depend on manufacturer.
Deluge valve working principle
Deluge valves are used to quickly release (open for) a large volume of service fluid (water) in short periods of time and that is an integrated part of the fixed fire protection system. This type of valve prevents services fluid from entering the upstream pipeline from the downstream pipeline until it is required to protect the system. and it is maintained to valve in closed position by pressurizing the control chamber (Diapharm) through priming the restricted priming tubing line.
There are three chambers within the deluge valve that are inlet chamber, outlet chamber, and priming chamber. These systems are activated by QB (rupture of quartzoid bulb) deduction systems or by electrical signals or maybe by solenoid valves.
When any pressure drop of air or water is deleted within the detection line, then deluge valve closing pressure is reduced or released due to pressure reduction in the DVs chamber and actuate the DVs valve with rapidly released the large amount of water upstream in the sprinkler line and spray over the protected area rapidly.
DVs – Means Deluge Valve
Detection line – Which is already installed parallel to the main sprinkler line. Detection systems may be hydraulic, pneumatic or electric, and the working principle will change accordingly.
Important part of Deluge valve
Valve body

Diaphragm

Diaphragm gasket

Spring

Valve body cap

Diaphragm Bolts

Valve seat

Priming and manual line

Inlet and outlet flange

Drain line

Solenoid valve

Drain point and its cap

Clapper

Water seal
Basic application of deluge valve
There are many applications of these types of valves as below mentioned, for tanker loading and unloading area, fire hazard plant process areas, storage and bullets tanks area, electrical transformers location, oil and gas and chemical plants. That is used with the following types of system: these are as below.
Use with fire hydrant sprinkler system

Medium velocity water spray system

High velocity water spray system
Foam monitor system (Within this system DVs pressurized foam bladder due to this process squeeze the foam solution towards out and spray the foam over the protected area through the foam nozzle)
Deluge valve sizing calculation
Deluge valve data sheet
How to install Deluge valve
The basic process for installation of this valve is first of all that clean the both side flanges (pipes and valve) faces with a gasket before the installation. Check the flange to flange gaps for the gasket and that should be equivalent to the gasket thickness. Approx 1mm access gap is acceptable at each end but before installation should be checked from your appropriate codes and standards.
The DVs should be installed at the visible and accessible plant location, for preventive maintenance and easily accessible for manual operation. Install with a spool piece in both sides of the valve so can easy to dismantle and clean the debris, mud or foreign particle present in the pipeline. A gate valve installed before the DVs for isolation purposes only during maintenance. It may be installed horizontally or vertical direction but the solenoid valve should be installed vertically with its installation method.
Deluge valve troubleshooting
To prevent any breakdown or failure, it needs to be test mechanically function of its parts and visual inspection every three month and should be performed test run trail annually. Because that is designed for installation always in a closed position apart from detected and fire hazard.
Select an appropriate deluge valve like size, flow capacity and other. Always should be used with strainer because often found debris, in investing of deluge valve failure causes of this valve could be choked. But consider strainer for a deluge system to increase the project cost, mostly Y type of strainer.
Sometimes this valve fails due to not installing properly during preventive maintenance on first time installation. After installation, you need to verify your checklist provided by the company.
Deluge valve selection
There are several criteria which have to follow during the selection of deluge valves; some of the important are mentioned below.
Certification should be followed as pes UL/FM approved.

Requirement of size with respect to your pipe like as – 2″, 3″, 4″ inch or any other.

Material of construction should be appropriate and compatible with process pipe like CI (cost iron) and details of the materials grade as per ASTM A216 WCB or SS stainless steel and materials grade like ASTM 182, CFM8, Gun Metal (GM) etc.

Connecting both flanges as per your pipe flange like – ANSI B16.50.

How much pressure rating for your services like 150/300/600 class?

What types of flange face are required for as per your design like – Flage face.

Requirements types of  hydraulic trimming and accessories, parts like pressure gauge

, solenoid valve

, panels etc.

Types of  mounting (installation) required as per your design like horizontal or vertical.

Selection of services pressure according to your design should be at list 1.5 times more than that design pressure like 15 or18 kg/cm².

Which types of end connection required such as flange with raised face or flange with plain face as per dimension standard B16.5/125, or threaded types of end connections?

Which types of  flange raised face serration like concentric, eccentric and measures in  AARH.

All tubing and additional piping threaded should be NPT, BSPT or other.

Select your hydrostatic test pressure minimum 1.5 times of your design pressure likes as 22 kg/cm2.

Painting and color coding like epoxy coating and color code should be Red.




Difference between deluge valve and Alarm valve
Some More Interesting Articles You Can Also Read From Here.